That Ghost is REAL, is not Fake of MacOS
I narrowed it down to super simple style.
"comfortable internet, music, and videos.''
MX LINUX without confusing.
Perhaps the crispiness is very addictive.
The basic interface operation of MX LINUX was simplified and made 
more-efficient. Incorporating Mac OS-like aesthetics, 
Focus on "being Linux". Ultra-lightweight than the bloated MacOS 
and has a "more modern design" than MX Linux.
Iso file can get from Here
​​​​​​​
File name is "MX_GHOST_2-20231001_0248.iso"
(At 3,Oct)

A bug was found in the smplayer's video playback acceleration
,
so I'm planning to replace it with a fixed ISO. 
If you would like to download the ISO, please wait for a while.
Version 1.0 (Orange theme color version) Introducing Video
MX LINUX Art Section Developer "Freja" (Tsuyoshi Nakamura) mades custom flavor of MX LINUX 23.
Directed/Designed completely as he liked.
​​​​​​​
Freja's original OS, What MX Gohst has achieved.
Full HD 60fps Youtube and mp4 videos
With unique audio filter
It can be played smoothly and has a cool design.
It also has a window effect.
While being a highly functional/high-performance Audio-Visual OS,
Installer capacity 2GB, startup memory consumption 1.3GB
Installation space required is less than 14GB.
Ultrabooks like Intel N100 and J4115
If you buy it and install MX Ghost, you can enjoy crisp performance.
You can enjoy audiovisual life.
In the MX tools built into the original MX LINUX
I omit tools that are not used often on a daily basis.
Although it is a clean minimal installation class,
You can also enjoy a luxurious audio-visual experience.

Conflicting propositions that cannot be realized on Windows or Mac
I was able to make it happen.
Power Menu with Minimal System Tray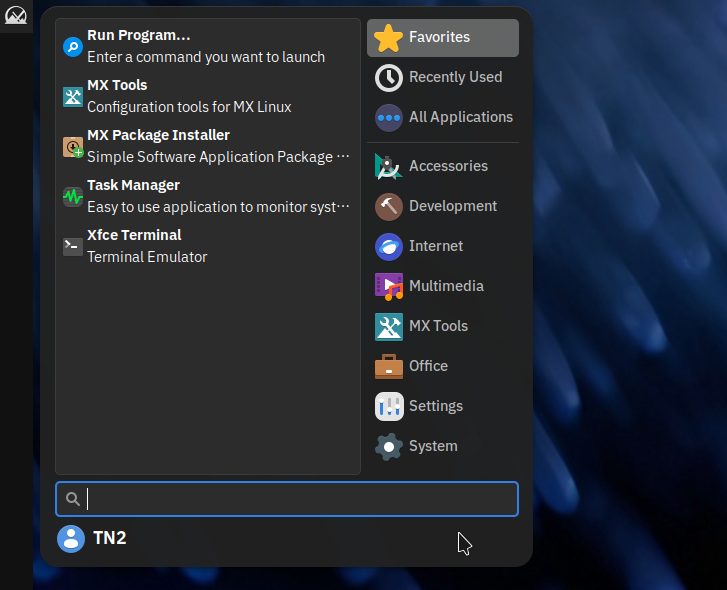 Breezed bluish File Manager Thunar
PulseEffects with Freja Original Audio-Presets
Dynamic Window-animation Like Mac's expose
Latest Stable Known Issues
When USB first boot problem
The first time you start from your USB drive, 
you will be prompted for a password.
Type "demo" to can start.
​​
​​​​​
First
 boot-up problem
If nothing on your desktop,
Press Hardware power button and select logout,
Re-login, It will be fine.
After icon Theme update problem
If you updated icon theme papirus,
folder color will return to default color,
To back Breeze Blue, Run this command in XFCE Terminal.
sudo papirus-folders -C breeze --theme Papirus-Dark
About Non-English Environment Support
Ex. Japanese environments are not supported.
We do not assume be using
with Japanese keyboard. Please use a US keyboard.
This Computer's OS targeted 1920 x 1080 Pixel or near Resolution PC/Mac.
Modern Intel Machine (UltraBook or UltraBook-LIke) required.
RAM: 8GB or higher Recommended.
1. You can use bluetooth headphones immediately after OS install.
(Of course can use with Freja's Pulseeffects Audio-Presets.)
2. When Cursor is on top-right corner, You can Mac-Like expose function can use.
This Computer's OS is NOT called Distribution,This is a custom-flavor of MX LINUX 23.
You can get support from

 
https://mxlinux.org/ and https://forum.mxlinux.org/
About MX-
Gohst specific issue, MX Forum member Freja 
will respond in the MX Forum
(Please create topic).
It is thanks to the hard work of many developers and copyleft minds such as
GPL, MIT Licence, and Open Font Licence that an person of art like me
who can't write code was capable to publish this.
I just added the final seasoning to the dish,
and I would like to pay tribute to dolphin_oracle and a lot of developers.
Thank you so much.
MX GOHST 2 and included softwares License
MX GOHST 2 (Linux OS) is MX LINUX 23 Custom-Flavor.
Is NOT called "Distribution".
Author: Freja (Tsuyoshi Nakamura)
Liscence: GPLv3
Window Theme: Graphite gtk theme
Author: VINCELIUICE
Liscence: GPLv3
Window Theme: Ohchis gtk theme
Author: VINCELIUICE
Liscence: GPLv3​​​​​​​
Cursors Theme: Capitaine Cursors
Author: ROURKE
Liscence: GPLv3
Window Animation Program "Compiz" and Window Decoration Program "Emerald"
Author: David Reveman, Sam Spilsbury, Danny Baumann, Dennis Kasprzyk, Daniel van Vugt
License: GPL, core: MIT license
Emerald Theme "Numix"
Author: Jof Thibaut
Liscence: GPLv3+
System Font "IBM Plex Sans JP"
Author: Mike Abbink(Principal design) https://www.mikeabbink.com/ and Bold Monday https://boldmonday.com/
Liscence: SIL Open Font License (OFL)